This one contains some nudity..(A bit of tit and...... I don't know what...... can you tell me if you do)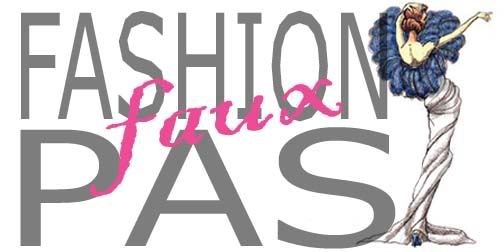 I made an unfortunate fashion faux pas whilst I was finishing snatching and grabbing up ALL of my Christmas shopping.
I wore a pale green shade of shirt. Apparently the applie freshness of green has been bought and trademarked- WW employee.
My snatching and grabbing shopping was interrupted on at least fourteen thousand occasions by various shoppers asking where it was I kept the
-butter milk,
-caster sugar,
- Jam jar sealing wax?
and- those cotton things you had in the catalogue
-if possible the pink one.
After my fifth rendition of I don't work here sorry... and the second time someone had given me a look of disgust as though I had ruined their entire Christmas by posing as a helpful impostor, I had had enough.
Not only did I not work there but it seemed nobody worked there.
Damn no good kids.
Then I got thinking about faux pas and as far as fashion failures go... I have had a few.
I was a brainchild of the eighties ......
remember
?
The wonderful
Midwife
bought me a baby sling when I had Princess Red Head and it was a godsend, I could settle her in a minute and I could discreetly feed her while I was out without having to put a blanket over her head knowing that at any minute her scratchy little fingers would grab a corner of it and flail it around like a loud attention seeking flag..
I have no issue with breast feeding in public, it's just that by the time my three kids had finished with my boobs, I hide them as a public service, no one on gods green would want to see them.
I little bit like two pillow cases flapping away in the breeze on the clothesline.
Anyway...
Walking around my local Coles feeding the bundle picking up various cheeses or what ever the fuck I was doing in Coles at the time,...... my little PRH had had her fill and fell asleep in that wonderful way newborns do when they are drunk on milk, her beautiful little red head fell back and away from the boob tucked inside her snug little cocoon.... or so I thought.......
I keep walking, Mr Emmasbrain ran into an old school friend and we stopped for the mandatory congratulations and pleasantries,........
On I walked thinking all the strange glances I was receiving, were more polite gestures from well wishes on the brand new one........... Then I started getting a little unnerved...... a little boy of around three stopped and pointed at me, and before he could say anything his mother whisked him away by the arm muttering...." yes... baby... quickly time to go now........"
And the penny dropped.
I have one of those children..........The ones who bark out as far as their squeaky little voices can carry something inappropriate...... often ...........and I have made that exact same swift arm grab followed quickly by a "yes dear....Truck..... time to go".
As though it were in slow motion I glanced down to my chest and there was my right one, free to air at my local supermarket.....
Then my mind raced... how long had it been exposed?.... how many fricken people did we run into... had Mr Emmasbrain's friend copped an eye full?........................... oh the shame..... Followed quickly by
How frigging rude of that fellow mother not to give me a discreet little "hey lady your tit is hanging out!"...... more cringeful shame......
Then ..... what?........ not even a breeze? had my nipples become that numb? then a little bit more embarrassing shame.
Pretty much sums it up.
Later when I got home I thought a little more about my unfortunate wardrobe malfunctions after ticking them off with mortifying ease.... I decided that I could very well be that mythical woman,....... whom somebody knew,.... that somebody that knew...
and this happened to.her.........
nicked from here
Me.....

Kind of... minus the........................... Is that something hanging out?.....

Nothing better than a flog on Friday