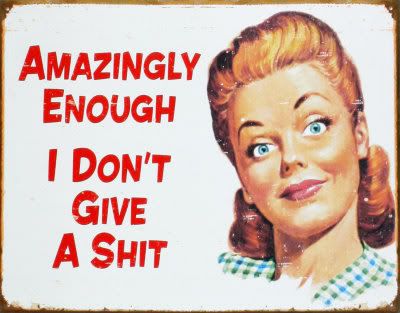 Frequent Internet users are less likely to respect the law, serve on a jury or do volunteer work, a study has found.

An Australian National University poll discovered that while regular web surfers were more politically engaged, they also had less deference for traditional societal values.
According to a study.
The study also reports that;
"Frequent Internet users were less willing than infrequent Internet users to accept that traditional norms of citizenship such as obeying laws and regulations"
The first thing I thought of after the words sweeping generalisations make baby Jesus cry left Emma's brain was this.....
I think the only thing that makes me more inclined to break the law regarding my frequent Internet use would be the fact that I am forced to bend over quarterly and pay Telstra a shit load of cash for a sub par service that I am forced to into using, as I live in the
dirty outer petticoat of Sydney
.
I get irrationally Irate and I must admit... a little stabby when I am forced to speak into a voice activated service with three children on school holidays... every time the spiel would start one of them would come in a squeal "Muuuuum".... and the stupid automated woman would say..."sorry I didn't quite get that"... and I would have to start all over again.
I think Telstra is playing its little part in the moral degradation of society... I mean the automated woman starts the conversation with... You can interrupt me at any time.... They are promoting bad manners,
No wonder when you finally get put through to
an actual person because you resort to shouting "Op-Er-A-Tor!!! you dick!............fffffffarout." down the line and she couldn't quite get that! you are less inclined to be nice.... I mean you have just spent the last 18 minutes interrupting the other skank..
Shame on you Monopoly man... I mean Mr Telstra.
Ranting aside and back to the study...
Apparently we are less likely to attend Jury Duty, however us F.I.U were more likely to help someone in need and were more educated on politics in general....
Interesting.
Ever broken the law?... Apparently if you are here you are more inclined to do so...Your secret is safe with me, chances are anyone who reads it will not show up in the jury pool anyway....
Emmaxx